Hospitality accounting is a complex process on its own. The complexity gets compounded during the peak holiday season.
With automation, you can ease the burden on your accounting team and also ensure higher room occupancy.
If you're a hospitality manager, then you know that the holiday season can be a stressful time. There are a lot of moving parts and it's easy to let things fall through the cracks. One area that is particularly challenging is accounting.
A hotel receives zillions of settlements and revenue from several different streams which mean managing different modes of payments like cash, credit cards, in-house guest payments, and account receivables. In the holiday season, this complexity gets just gets compounded! However, there is some good news. Automation can help take some of the strain off your accounting operations during peak season.
Managing The Seasonal Rush
An important factor that determines how successful your hotel business is its occupancy rate. Hotels are seasonal businesses. Even the most successful hotels do not enjoy 100% occupancy rates throughout the year. But what if there was a way to double the occupancy rate for your hotel, especially during the holiday season?
Yes, you guessed it right! The way out is automating your back-office operations. Most business owners forget that better room occupancy is not just about pulling the crowd to your hotel but also about tracking it with zero errors.
Higher occupancy rates during the holiday season is good news, but it also means more work for the accounting department. Ensuring correct billing and zero refunds is the dream of every accounting team. Refunds don't just mean more work; they dent the brand image of the enterprise permanently.
Improving Resource Management
Another bottleneck that automation can help navigate is the personnel shortage. Identifying and hiring the right candidate is a herculean task, more so when it comes to the hospitality industry. With automation hospitality managers can ensure that accounting operations run seamlessly irrespective of resource shortage.
Work-life balance is essential for the mental well-being of employees, especially during the holiday season. With automation, you can rest assured that the accounting process is handled efficiently without any glitches.
Easing the Accounting Process
Just imagine a holiday season when a hospitality enterprise is flooded with customers, and you run out of experienced staff! It's an operational nightmare. But there is a way out.
By identifying the right uses cases for automation, Hospitality managers can automate individual accounting tasks like Account payables, Account receivables, Bank Recon, General Ledger, Credit card chargeback, Payroll Validation etc to achieve peak efficiencies.
The complex bank recon processes that large multi-property enterprises must manage everyday can be simplified with hyperautomation.
End to End process Automation of the bank recon process can help you:
⦁ Eliminate costly errors
⦁ Reduce time taken for processing
⦁ Ensure higher room occupancy
⦁ Decrease dependencies
By automating the accounting process, hospitality leaders can ensure seamless, error-free back-end operations which ultimately lead to higher revenue.
Below is a case study of how automation of income journal can double the productivity and save $100000 annually!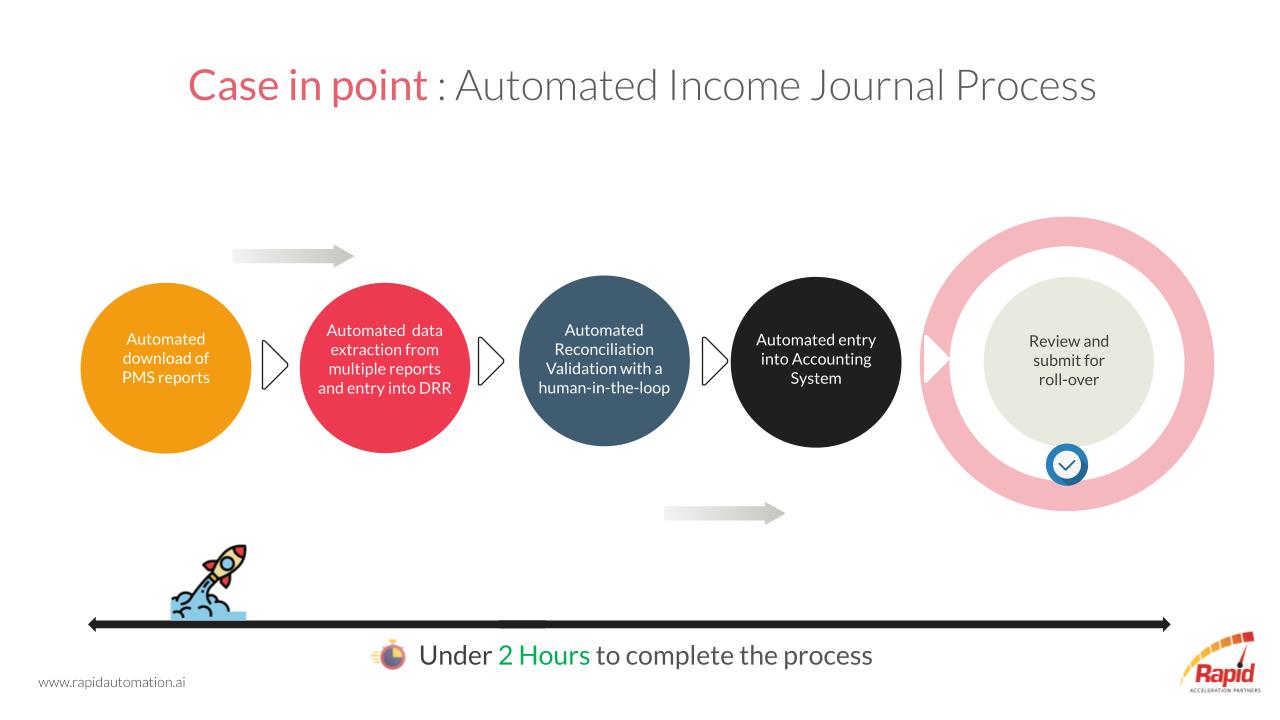 Automation can help you to meet the demand during peak season and sustain the momentum after that. It can help with data entry, invoicing, and payments. This can free up your accounting staff so they can focus on financial strategy and planning.
Embracing automation is also the only way for new hoteliers to thrive in the highly competitive hospitality industry. If you're not using automation, now is the time to start!
And this holiday season you can gift your team a break, while the bots run the show.